PROSTHETIC COVER MARKETPLACE
ASSIGNMENT OBJECTIVE
Improve a customer's retail experience.
PROBLEM
Amputees undergo massive change in their lives. In addition to potential physical pain, they often face loss of independence, impact to self identity, and social stigma or rejection. Cosmetic covers have been shown to alleviate anxiety and promote increased agency over their limb; however, cosmetic covers are not often prescribed and amputees are left to identify and navigate virtual options on their own.
SOLUTION
We partnered with a local prosthetics company to design an online marketplace that consolidates prosthetic covers of various durabilities, prices, and aesthetics. Additionally, we introduced methods to virtually "try-on" covers to provide greater understanding of the end-product and instill hope earlier in the amputation process.
MY ROLE
Ideation, Interviews, Prototyping, Wireframing, and Usability Testing
BACKGROUND & LITERATURE REVIEW
Each year, approximately 185,000 people in the United States suffer limb amputations. This number is projected to rise with the increased prevalence of dysvascular conditions, resulting in an estimated 3.6 million amputees by 2050. While the majority of lower-limb amputees opt for the use of a prosthetic, 84 percent of patients felt they lacked choice in the prescription of their initial artificial limb. Given their lack of participation in the acquisition of their device, one method for increasing ownership is altering the appearance of their limb to suit their personal goals and style through prosthetic covers.
Background RESEARCH & CONTEXTUAL INTERVIEWS
Until recently, there has been a significant gap in the market for aesthetically pleasing prosthetic covers. However, companies including Alleles, UNYQ, and Arthesis have leveraged advanced technologies to fill this need. While an important development for the amputee community, few of these companies allow direct purchasing, instead requiring the intervention of a prosthetist.
Due to Institutional Review Board restrictions I cannot disclose specific information, but we used the below research methods to inform the requirements and goals of our design:
Literature Review
Review of amputee and prosthetics statistics

Review of literature regarding amputation and current practices

Review of phenomenological studies of amputee experience

Thematic analysis of a supplier's blog posts and testimonials
Observations & Interviews
Observation of online amputee support group

Phone interview with prosthetic cover provider

In-person interview with prosthetist

In-person interview with end-user
Task Analysis
Task analysis of a supplier's website

Task analysis of a supplier's mobile app

Task analysis of comparable fabricators
Ideation
Brainstorming

Bodystorming

Theme mapping
Goals
Goal 1: Help users to understand the broad choices of cosmetic covers available.
Goal 2: Create a usable and informative storefront for users, including critical product details.
Goal 3: Provide users with visualization tools that are capable of providing the necessary form details and context to allow them to make selections.
BODYSTORMING
We acted out various scenarios and tried to imagine the user's perspective with the design. We spoke aloud and captured the narrative, which allowed us to model potential interactions.
SKETCHING
We each created sketches to highlight ideas that we felt were important to aid further discussion. These sketches ranged from new product ideas to measurement systems. Collectively, we hung up each idea and walked through the specific details - evaluating how they could work in the given context and consolidating similar ideas into larger product ideas.
STORYBOARDING
We mocked-up a number of design alternatives as storyboards, exploring the user's experience through our system, and allowing us to test the designs with users.
PAPER PROTOTYPING
We used paper prototypes to ideate and test the flow of the interaction. Each step was drawn on an index card, which allowed us to experiment with different design patterns.
INTERACTIVE EXPERIMENTS
Before committing to the final prototyping tools, we built quick experiments that allowed us to evaluate different interface ideas and test potential interactions with 2D and 3D visualization elements.
WIREFRAMING
To better understand interaction flows and test content, I created wireframes using Axure. These designs were high-fidelity to ensure that visualization did not detract during usability testing.
EXPERT INTERVIEWS
To ensure our design met the needs of the users, we conducted a series of expert interviews over the course of the design process and concluded with a formal usability evaluation.
DESIGN Alternatives
To ensure that we explored various design alternatives, we centered our ideas around four diverse options: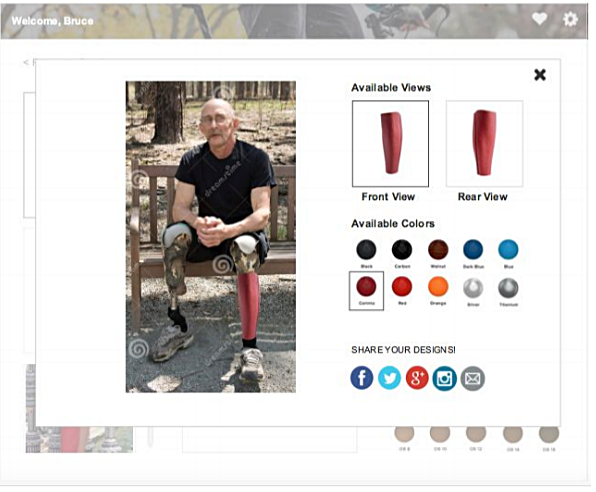 Each perspective above had multiple design options, with the largest being augmented reality.
design evaluation
We began by evaluating the strengths and weaknesses of each of these approaches. After integrating these features into a high-fidelity wireframe, we began user testing.
Usability Measures:
System Usability Scores (SUS)

NASA Task Load Index (TLX)
Testing Methodologies:
A/B Testing (Compared to Supplier Lookbook)

Scenario Testing
final designs
Final designs were informed by the outcomes of the usability testing. Based on this feedback, we updated the designs and integrated new functionality. Ultimately, these designs addressed all of our goals and provide avenue for future exploration.
There are many difficult challenges that amputees face as they undergo the surgery and rehabilitation process – with financial burdens, the pain of exercise, the changing nature and swelling of their leg, and the fear of public stigma for their prosthetic. We hope that a system like this can reduce stress through a difficult process.